The 2016 Solar Energy & Green Tour was a hit, with over 40 participants throughout Douglas County, in attendance! The tour began with guest speakers Karen Chase and Brooke Ingram from the Energy Trust of Oregon; here Karen is pictured sharing information on all the ways that the Energy Trust can help you save energy and money on your monthly utilities!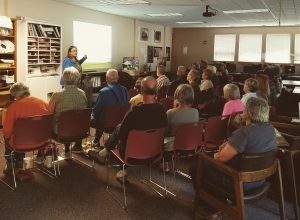 Other notable speakers included David Longthorne from Newcastle Solar, Al Walker an energy advocate, and Melanie MacKinnon with Douglas County Smart Energy. These experts were available throughout the tour for explanations and Q&A time. They accompanied participants to four different Energy Efficient and Solar Energy homes, businesses, and buildings within Douglas County.
After the informational sessions with Energy Trust and Al Walker at Phoenix School, participants were off to the second stop. A business in our very own downtown Roseburg! Pictured on the left, Sharon Lee Schwartz Law Offices gave participants a look at how to go Solar in an urban environment. Sharon Lee was also available to answer questions about the entire process of making her business more energy efficient and the solar installation process. After a lunch break in the park, where Logger's Tap House donated Pizza, participants set off for stop number three (pictured right). A personal home in a rural environment, showed a different side of solar, and gave participants a look at the residential side of energy consumption.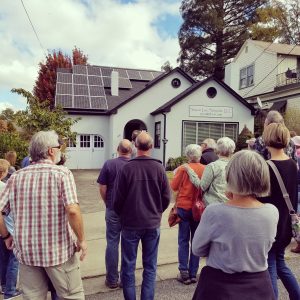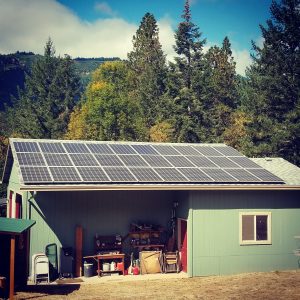 The last stop on the tour featured a Net-Zero home! That means this home provides all of resident's energy needs! This particular home set-up produces even more energy than can be used! Where does this extra energy go? The utility company pays the home owner for it! Jim Stelson explained how a combination of behavior change and solar panels/solar thermal hook-ups have actually started to make him money!